Traditionally, homes aiming at energy efficiency for chilly areas of the U.S. get all the attention. But let's not set the south to the side. Building in hot climate zones comes with its own set of challenges.
---
Addressing Humidity in High-Performance Home Building
One of the most common issues we get at ECHOtape is how to address cold-weather problems—whether it's getting tape to stick in the cold, coming up with a unique adhesive solution for sub-zero climates or how to best seal the building envelope.  Indeed, the simple fact is that homes in colder climates use more energy for heating than those in warmer climates use for air-conditioning.  However, warmer climates present a different set of challenges.
On average, there is a smaller temperature difference between indoor and outdoor conditions in warmer climates. In Florida, cooling a building from 95°F to 75°F entails only a 20-degree temperature change while warming a home in Wisconsin from 20°F to 70°F results in a 50-degree temperature difference. This relationship over an entire season is captured in a metric known as heating degree days (HDDs) and cooling degree days (CDDs). For example, Madison, Wisconsin, has 7,333 heating degree days, while Miami has only 2,562 cooling degree days. (You can find average heating degree days for any city in the U.S. here.) 
However, degree days do not capture one significant comfort issue in high-performance homes—humidity control.
"Builders need to understand that dehumidification is a must-have in high-performance homes," says Sam Rashkin, Chief Architect of the Building Technologies Office in the Office of Energy Efficiency and Renewable Energy, U.S. Department of Energy (DOE). This is because swing seasons are much longer with increased insulation and air-tightness that substantially reduce the sensible load (e.g., heating or cooling) while still leaving a significant latent load.
"If you're not operating air conditioning and indirectly getting dehumidification, then the home can get uncomfortable, and makes owners unhappy," Rashkin says. Builders can adopt one of two strategies for humidity control: several variations of a dedicated whole-house dehumidifier or variable speed equipment that can operate in dehumidification mode.
A second challenge with high-performance homes is ensuring adequate air mixing. Rashkin emphasizes that this challenge can be mitigated by planning and installing duct systems for much smaller heating and cooling loads.
---
Four Keys to Building ZERH Homes in Hot Climates
The U.S. Department of Energy (DOE) defines a zero energy ready home as "a high-performance home which is so energy efficient, that a renewable energy system can offset all or most of its annual energy consumption." DOE zero energy ready homes are designed to meet high performance standards so that they live better, work better and last longer than code-built homes. In fact, we've covered the program in depth here and here.
That said, warmer climates do have their own unique set of challenges when it comes to building beyond green. Energy modeling will help optimize insulation, air sealing, and equipment selection in warmer climes, but here are four key areas highlighted by the Zero Energy Project that builders and contractors need to consider when building in warmer climates.
Thermal Mass. Concrete, brick, tile and thick plaster will absorb large quantities of heat and release it slowly. This "thermal mass effect" helps even out daily temperature swings, especially in desert climates that experience large temperature swings from day to night. Heat is absorbed by these high-mass materials during the daytime and, if nights are cool enough, opening the home at night can help vent the heat outside.
Insulation. If the walls are concrete-block, rigid foam should be installed on the exterior. A slab foundation should not have insulation below the slab, as omitting it will reduce the home's cooling load. Slab perimeter insulation is recommended where termites can be controlled. Ceilings or roofs should be insulated to at least R-30 depending on energy modeling, and if the house has an unconditioned attic (typical in the south), specify radiant-barrier roof sheathing.

Air Sealing.  Carefully seal the home's thermal envelope because air sealing is just as important in warmer climates as it is in cold climates. In warmer climates, air leaks increase the home's cooling load and allow humidity to enter the conditioned space, so air conditioners have to work harder. In humid climates, airborne water vapor from outdoors presents a threat of mold and rot that will be reduced by air sealing.
Moisture Control. Since moisture makes a home feel hotter and makes air conditioning more expensive, the following strategies should be used to prevent it entering the home: wrap the house with an effective moisture barrier including proper flashing; make the home as airtight as possible to keep moisture out; and install a properly sized energy recovery ventilation (ERV) system with vents in the bathrooms, laundry and kitchen to expel moisture, while retaining the home's cool air. Take care to properly size the central air conditioning system, as an oversized system will not effectively remove water vapor.
---
Rashkin's Tips for Building ZERH Homes
Sam Rashkin wrote the spec on Zero Energy Ready Homes, so we asked him to share his tips and strategies for building ZERH in warm climates.
"I think the first tip is to thoroughly understand the credits and debits when it comes to choosing high-performance home features. As an example, let's consider unvented attics as a triple-win for efficiency, comfort, and resilience. Compared to conventional vented attics: unvented attics eliminate the need for up to a dozen thermal bypass checklist details, attic vents, and expensive alternatives for locating HVAC ducts in conditioned space (e.g., dropped ceilings). Additionally, unvented attics provide useful third floor space for storage and living space as well as the HVAC system, And with this extra space, builders could opt for a shallow frost protected foundation for significant cost savings compared to a basement."
Lastly, resilience benefits apply in locations where an unvented attic avoids fire risks since embers cannot enter vents and structural damage risk where heavy winds (e.g., tornado and hurricane zones) cannot blow through soffit vents.
"In other words, unvented attics in most locations are more resilient, more efficient, create bonus spaces for extra rooms, are a great place to put mechanicals, and enhance comfort by eliminating the egregious attic and ceiling interface" says Rashkin.
In any climate, high-R enclosures improve resilience because the significantly reduced heating and cooling loads allow the home to maintain reasonable temperatures longer without power and can be operated with a much smaller renewable energy system or battery storage.
"And speaking of high-R enclosures, SIPs (structural insulated panels) are an untapped solution for a number of killer applications," says Rashkin. "For example, band joists are always a significant challenge in framed construction because a separate contractor is required to foam them in the field where fibrous insulation is commonly installed in the walls. In this application, SIP band joists provide in one step high-quality insulation, full two-sided air barrier, and cost savings by eliminating the need for window and door headers in most openings. "You're effectively creating a structural rim around the house," Rashkin explains. Other ideal SIP applications include floors separating a bonus room from the garage, attic hatches, and attic knee walls.
---
Zero Energy Ready Success In Arizona
To see a sample warm-climate Zero Energy Ready Homes in action, check out the stats below for Wickenburg Ranch in Arizona: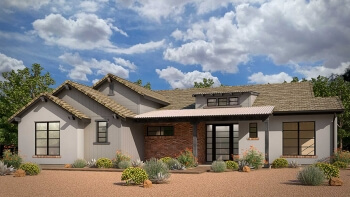 Mandalay Homes, Arizona
Wickenburg Ranch
Layout: 3 bdrm, 3.5 bath, 1 fl, 2,915 ft2
Climate: IECC 2B, hot-dry
• Completed: May 2018
MODELED PERFORMANCE DATA
HERS Index: without PV 46; with PV 25
Annual Energy Costs: without PV $1,550; with PV $500
Annual Energy Cost Savings:(vs typical new homes) without PV $1,550; with PV $2,250
Annual Energy Savings: without PV 11,800 kWh; with PV 17,200 kWh
Savings in the First 30 Years:$109,600
"Mandalay homes consume less, conserve more, and give homebuyers the most comfortable and healthy living experience possible. They can focus on the features and options important to them, and take comfort that the home will perform amazingly for them for years to come.  The customer satisfaction that comes from that core is beyond measure. We made a 100% commitment to DOE Zero Energy Ready Homes. No matter where you go in our developments, regardless of the price point, everything we build meets a HERS 50 maximum. We have been working on perfecting this for three years now. Most of our homes are coming in at 46 to 47, whereas a year ago it was 48 and 49. This a result of better craftsmanship as the trades understand better how to get the most out of the products and technologies we are using." – Geoff Ferrell, Mandalay Homes
And here's the best news: no matter where you live, a tight, energy-efficient envelope will save a significant amount of money during the summer—and a lot more in the winter.
For more success stories, visit the DOE Tour of Zero.