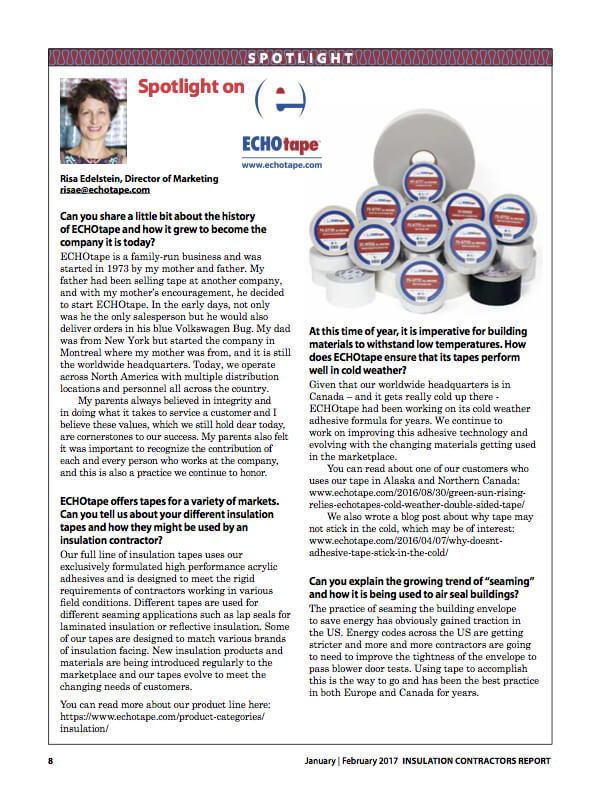 For more than 35 years, the Insulation Contractors Association of America (ICAA), the trade association for residential and commercial thermal insulation contractors, has been helping insulators and their suppliers. As we all know, issues and improvements surrounding thermal insulation, air sealing and the building envelope will only continue to rise in importance. The ICAA is at the forefront of this trend, so it was only natural that we join such a lauded organization.
Recently, Director of Marketing Risa Edelstein sat down with the editors of ICAA magazine.  Check out the ECHOtape Spotlight article, or continue to read an excerpt below:
ECHOtape offers tapes for a variety of markets. Can you tell us about your different insulation tapes and how they might be used by an insulation contractor?  Our full line of insulation tapes uses our exclusively formulated high performance acrylic adhesives and is designed to meet the rigid requirements of contractors working in various  eld conditions. Different tapes are used for different seaming applications such as lap seals for laminated insulation or re ective insulation. Some of our tapes are designed to match various brands of insulation facing. New insulation products and materials are being introduced regularly to the marketplace and our tapes evolve to meet the changing needs of customers.
At this time of year, it is imperative for building materials to withstand low temperatures. How does ECHOtape ensure that its tapes perform well in cold weather? Given that our worldwide headquarters is in Canada—and it gets really cold up there— ECHOtape had been working on its cold weather adhesive formula for years. We continue to work on improving this adhesive technology and evolving with the changing materials getting used in the marketplace. You can read about one of our customers who uses our tape in Alaska and Northern Canada here. We also wrote a blog post about why tape may not stick in the cold, which may be of interest.
Can you explain the growing trend of "seaming" and how it is being used to air seal buildings? The practice of seaming the building envelope to save energy has obviously gained traction in the US. Energy codes across the US are getting stricter and more and more contractors are going to need to improve the tightness of the envelope to pass blower door tests. Using tape to accomplish this is the way to go and has been the best practice in both Europe and Canada for years.  We wrote about this growing trend on our blog .
What is one element of the "tape business" that may surprise people? There are so many different kinds of tape and so many different kinds of tape applications. People who are not in the business are so surprised that a company could exist that only sells tape, but we are challenged every day by customers with new applications which makes it exciting and ever changing.
To learn more about the ICAA or to read more from Risa's interview, visit Insulate.org today.