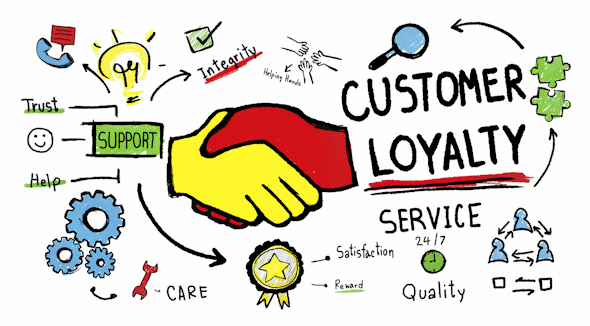 There is nervous chatter in the business world lately about the supposed "decline of customer loyalty;" the rumor being that customers switch between companies and brands faster and more often than ever before.
But what's the real story? Can modern customers become and remain faithful to a company?
We think so. In fact, we believe that there is more business loyalty than ever before.
It's true:  Customers have more purchasing options than ever before. However,  those customers aren't asking for anything different in return than their 1990s counterparts. Good service and genuine authenticity. There's nothing quite like the barista knowing just how you like morning coffee, or the manager at your local grocery asking about your ailing mother.
"Businesses earn loyalty by creating meaningful experiences across all contacts in ways that matter to individual customers." says Micah Solomon, a customer service consultant, customer loyalty expert and author of High-Tech, High-Touch Customer Service. "Customer loyalty is arguably the most important factor in business today. Not only will it bring repeat business, but also translate to more opportunities via word of mouth as well as brand mulligans for those little hiccups that occur every now and again."
So… How does one create a sense of loyalty that is reciprocal, authentic and meaningful?  By establishing a personal relationship with each individual customer. Period. No matter if you are B2B or B2C or B2B2C,  people will almost always remain committed to a brand if they believe they've developed a genuine and mutually beneficial relationship.
Virtually every business has the tools to follow up on a sale, one month, 6 months or even a year later. That's easy. At ECHOtape, we believe it's much more important to take advantage of any opportunity to get to know a client on a personal level. Most people will not expect a customer service representative to ask about their son's graduation or a recent job promotion.
Empowered and informed by the web, deeply connected through social media to friends, colleagues and the world around them, modern consumers will absolutely evaluate and compare the quality of their experiences with those of others. And they reward businesses that connect with them at a human level.
Has business loyalty significantly impacted your business recently? We'd love to hear about it!