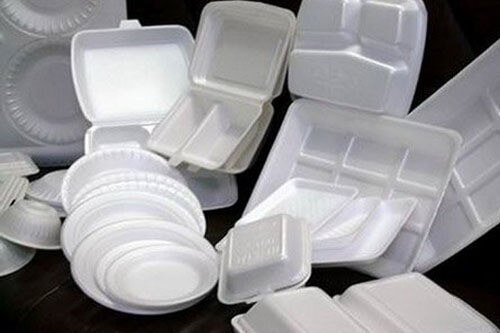 One of the leading manufacturers of custom and private-label polystyrene products, including foam food containers, trays, plates and bowls, approached us last March looking for splicing alternatives.  Currently, they were using liquid adhesive to splice lightweight polystyrene from one large roll to another.  They were hoping to find a tape that would not only reduce their down time — preparing the splice and dry time — but streamline production during their 24-hour, 7-days-a-week cycle.
By using a tape that performed well in a flying splice, we knew they could accomplish all these tasks and increase profitability, to boot. However, there were three hurdles to overcome. The first was speed — the machines were running at approximately 1,000 feet per minute.  The second was temperature — the polystyrene had to run through a flash heat curing oven with temperatures climbing over 600°F.  And lastly, color. The tape needed to be dark enough to identify the splices and remove them before sending the material through the converting process for the end product.
We had just the thing: SC-211GB which is a specialized high performance splicing tape.  It's incredible heat tolerance, quick tack and black color seemed to meet their parameters. After running several tests, the tape vastly outperformed their liquid adhesive! Another successful solution provided by ECHOtape!