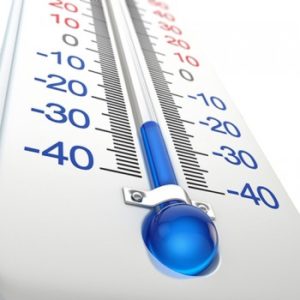 One of the nation's premier convenience and gasoline marketers has a big problem:  They couldn't find a tape that would stick in sub-zero temperatures.
In an effort to eliminate waste and by-product, this major supplier to North American convenience stores was revamping their freezer packaging processes.  This continuous packaging process required a splicing tape that would work on packaging film inside an industrial freezer. We're talking up to -30C.  Every tape the company tried had failed.  Cracking, splitting, or simply not adhering at all.
Lucky for them, we understand that frozen food packaging requires specific materials and expertise to ensure that the package will sustain sub-zero temperatures without cracking or leaking.
After finding out a few details on what they were trying to accomplish, we sent them a roll of our DC-M194A Cold Weather Double-Sided Tape for testing.  This high performance double sided polyester film (PET) tape is coated on both sides with a cold weather acrylic pressure sensitive adhesive, which forms a permanent bond with a wide variety of surfaces, including packaging film. It worked so well that they decided to push this to their other facilities for further testing, and potentially use our splicing tape for industrial freezer packaging in all of their North American packaging facilities!
Another challenge met by the ECHOtape Team!