It's no secret that we love trade shows. There really isn't any better way to learn what's new and trending in various segments of our markets.  In June, ECHOtape attended PLASTEC East, which is like six industry shows in one, advanced manufacturing plus packaging, automation, plastics, quality, and medtech!  The show spotlighted two industry mega-trends — 3D printing and smart manufacturing — and while these aren't our typical markets, we recognize the fact that smart manufacturing is going to impact the way all products are made.  This is what we learned:  
1. When it comes to manufacturing, the U.S. is focusing on improving design, short runs, customization and prototyping. The common consensus being that when volumes are large, overseas manufacturing can be much more cost effective.  This means, to some degree, that the U.S. is adapting its value proposition and adjusting to global competition. My guess is that design will continue to play a big role.  Think Apple.
2. 3D Printing was a show stopper and is gearing up to change the manufacturing rules.  There are many companies who are now offering prototyping services as well as small production runs.  It is hard to imagine where this will go, but it is definitely here to stay. Currently, a number of small, multi-generational family run businesses in old school industries such as packaging and small scale manufacturing, so this is a huge opportunity for innovation and disruption.

3. Printing and packaging have come a very, very long way. You can't help but be inspired by what is now possible and affordable. Take, for example, the flood-coated Igus sample box shown above. While this type of process is expensive relative to plain white or brown boxes, it is actually an inexpensive form of advertising.  Time to up our game!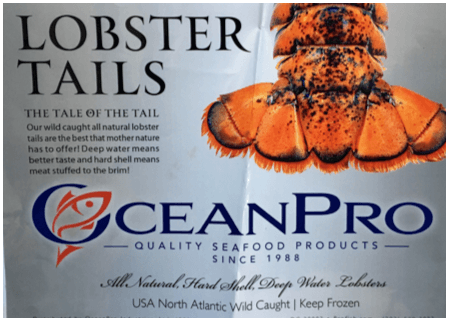 4. Office table top, 4-color label printers are fast and increasingly affordable.  You can print out thousands of beautiful labels right on your desktop, like this lobster label printed right on the trade show floor.  Having this kind of customized capability can help with improved marketing efforts and/or anything else we need to do in small runs.
5. We convert a lot of material in the U.S., meaning, we take rolls of things and make them into other things which is where splicing tape is used. The U.S. excels at this and is able to meet the needs of customers with smaller runs and more customized products.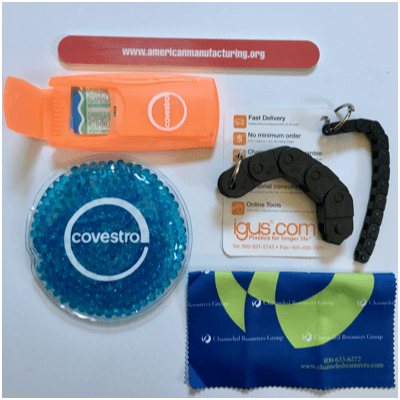 6.Robots! The future is now. Robots are part of a bigger trend known as smart manufacturing, which is poised to help make the manufacturing sector faster, more efficient, and more profitable. 
7. Online shopping has become a multi-industry disruptor, forcing many brick and mortars out of business. However, it's also pushing innovation in packaging. For example, PackSize.com has an innovative system that produces on demand custom boxes based on an ecommerce order and the size of stuff in it.  Staples is using this technology to reduce waste and trim shipping expenses.  
8. And, last but not least, it doesn't matter how trendy or current the trade show, finding really cool promotional items is virtually impossible. Who's going to disrupt this industry?!