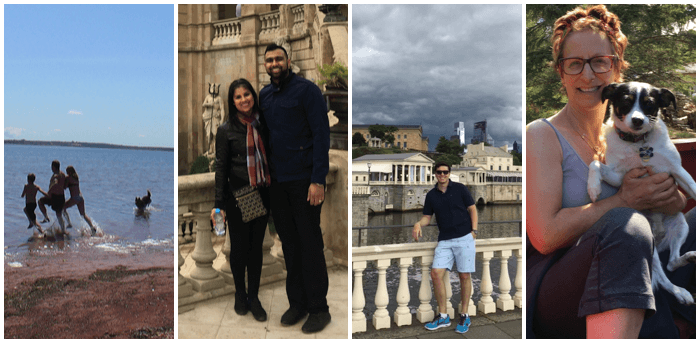 At ECHOtape, we believe whole-heartedly in the power of V… Vacation, baby!  Way better for our brains than overtime, time away from the office boosts morale, improves concentration and replenishes job performance.  Where ever you get your break — an afternoon in a hammock reading a book, a weekend beach getaway park, or climbing Kilimanjaro — doesn't matter so much as long as you simply take some time off work.
In the spirit of adventure, we asked ECHOtapers where they were going this summer: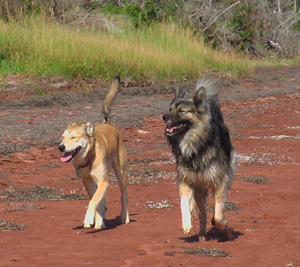 "We love the outdoors," says Michael Gauthier. "In fact, my favorite vacation of all time would have to be our 2007 trip to Prince Edward Island (shown above). Two kids, two adults and two dogs (at right) in one little pickup for two weeks.  Awesome family memories! This year we're all going camping again. My 6 year old daughter has never been. I want to introduce it to her while she's young."
Zuzanna Chudzinski is also rolling out the sleeping bags this summer. "This year, we decided to go hike the Malbaie, and camp and bike Pointe-Taillon! I'm extra excited for Pointe-Taillon because you rent out bike trailers, pack it up with your equipment and bike for 21km to get to your campsite with a beautiful waterfront view."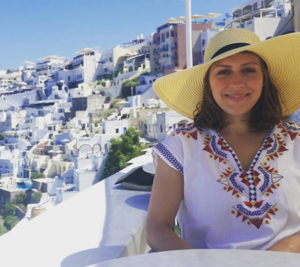 No stranger to adventure, Zuzanna's favorite vacation was Greece (shown left). "My boyfriend and I spent two weeks traveling between Santorini, Crete and driving all the way through the mainland from Thessaloniki all the way back to Athens. It was incredible!"
Patrice Laplante is letting someone else do the driving. "I'm researching late summer cruises," he says.  "I don't know where exactly yet, but it will be my first cruise." It's center court for Mauricio Acuna (shown above) who planned his summer vacation around the US Open Tennis Grand Slam in New York, and the UK for Deepa Patel. "This is short trip for my cousins wedding. Both the bride and groom are from different sides of the family — they are not related!! — so I  am very much looking forward to seeing so many family members.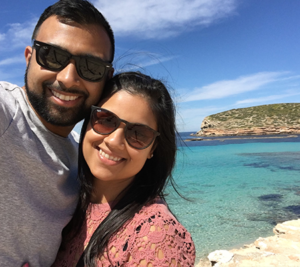 But this is my second vacation this year.  I visited Barcelona and Ibiza (at right) just a couple of months ago.  Ibiza is known as party town but we had a complete different experience there. We rented a car and did some beach hopping, enjoyed the sunsets and the delicious food. I would go back in a heartbeat!
And last, but not least, Risa Edelstein is going to Isle Au Haut in Maine. "It's a six-hour drive from Boston, but a very special place because we stay at a 1930s lodge that feels like you are back in that era. Not to mention that the hiking is incredible."  Who else is joining Risa on Isle Au Haut? Her dog, Daisy. (shown above) "I bring Daisy when I can!  She comes with me to Maine and is a serious hiker."
What are your vacation plans? Do you include your four-legged family too? Tell us about it via Facebook!