After 18 years, ECHOtape's Chief Technical Officer James Begin still loves his job. "Honestly, when I wake up, I'm excited to come here. The company challenges me, encourages me to grow, and empowers me to do my job. What's not to love?"
Let's face it. When it comes to tech employees, "long term" often means one, maybe two years. It's a field fraught with job hopping, which makes an 18-year-veteran like James a rare find indeed.
What makes him stay? Better yet, how do small businesses like ours retain a group of employees for 10 years or more? Who better to answer those questions than our longest employees themselves!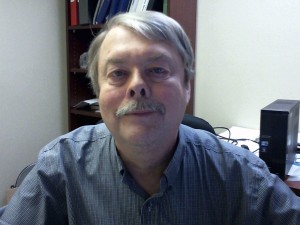 James Begin, CTO (Chief Technical Officer)
18 years with ECHOtape
What do you like most about your job? Echotape is very progressive and always looking for new ways to make things better. This keeps me challenged, and continuously researching better, more efficient methods of running business processes.
What has been the most enjoyable aspect of your years at ECHOtape? When we virtualized the servers, moving them from a server room attached to the MIS department to a datacenter with 24 hour security and power backup. I worked hard for that transition and was very pleased when it finally happened.
What lessons has your work life taught you? I have been in the back office watching ECHOtape serve our customers the old fashioned way. They answer the phone with a real live person, they direct the caller to the most capable person for their current need and customers come back for more tape. This has shown me that sometimes the old methods are still the better choice, so it influences how I choose technology for the company.
What's one of your favorite ECHOtape stories? The company founder, Stanley [Edelstein], was always interested in new technology, especially when he was paying for it. He also loved shopping at the Dollar Store. One time I had bought some telephone cables for about $1.50 and Stanley told me he could do better. He did, getting them for $.99. It became a running joke and a fun competition to out-do one another.
How would your co-workers describe you? Knowledgeable, but difficult to get a short answer from. [He laughs.]
What are you most passionate about outside of work, but not involving your family?Computer technology.
What's next for James Begin… what's on your bucket list? Travel! A Mediterranean cruise. Visiting Australia and New Zealand. Driving down the U.S. East Coast to Florida, over to California, up to Vancouver, then across back to Montreal.